Alysia
Dental Assistant
I enjoy making sure our patients are comfortable by being a nurturing presence during their visits. I also like being part of our amazing team and seeing how everyone cares for our patients' comfort and happiness!
Alysia started her career as a Registered Dental Assistant in a pediatric dental office in 2018. She joined Henricksen Family Dental in 2020 and works in the clinic. In addition to taking impressions, she assists Dr. Henricksen chairside during various procedures, including fillings, crowns, and extractions. Her focus is on helping patients have positive dental experiences and keeping them comfortable during visits.
Being with family is Alysia's greatest love. She and her husband have two daughters, Sophia and Lily. The family enjoys camping and exploring new places together. In her spare time, Alysia is an avid reader.
Andrea
Scheduling Coordinator
I enjoy being part of an office and team that helps people keep their teeth healthy. Everyone here is united in our goals to provide a supportive environment and great dental care!
Andrea attended Kaplan College, started in the dental field in 2007, and became part of the Henricksen Family Dental team in 2022. Working in the front office, she manages the schedule and sets appointments for patients.
Away from the office, Andrea loves gardening, spending time outside, and collecting crystals.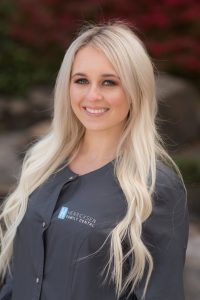 Bethany
Dental Hygienist
Helping my patients achieve their oral health needs has always been the most rewarding part of my job. I also love the team I work with, as we all have the same goal: to provide patients with the most comfortable care and positive experiences!
Bethany attended Clark College in Vancouver, Washington, graduating in the Class of 2010 and starting her career. In 2018 she joined Henricksen Family Dental, offering personalized dental hygiene care. She provides thorough and gentle cleanings, preventive and maintenance care, and useful patient education.
Spending time and planning activities with her friends and family keeps Bethany busy away from work. She lives in her hometown of Toledo with her two young children: daughter Sawyer and son Asher.
Casey
Office Manager
I enjoy working with patients, helping them with their account/insurance questions, and seeing them receive the treatment they want and deserve. We have a great team: everyone is very thorough and caring with our patients!
Casey started her career in the dental field in 2006 and is well-versed throughout the entire office. Bringing her in-depth knowledge to Henricksen Family Dental, Casey handles a range of duties. She reviews treatment plans with patients, takes care of insurance and patient billing, checks patients in and out, and is in charge of employee relations.
Being with loved ones keeps Casey happy outside the office. She has a husband, two sons, and two dogs. The family enjoys time outdoors: gardening, camping, hiking, going to the river/lake, and riding their RZR on the dunes. Casey also likes cooking, baking, and trying out new recipes.
Desirae
Registered Dental Assistant
The best thing about being a dental assistant is helping ease patients' fears and anxieties about coming to the dental office. It's a great feeling when a patient initially comes in scared or even crying and, now that we've shown them that we offer painless care, they arrive smiling and laughing! That's a lot of what makes this office great: everyone is kind, caring, and always willing to help out, anyway they can!
Desirae has worked in the dental field since 2007 and attended the South Puget Sound Community College Dental program. She is a Registered Dental Assistant and has completed multiple professional certifications. In 2021, Desirae joined Henricksen Family Dental, providing high-quality care through a variety of office and patient-care duties. Working chairside, she assists the doctor with patients, instruments, and supplies during treatment.
A single mother, Desirae's son is in college. In her spare time, she enjoys being with family and her two kitties, Coco and Moose.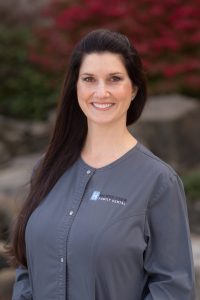 Kelli
Registered Dental Hygienist
I love working with people every day, getting to know them on a personal level and helping them achieve the best possible oral health.
Kelli earned her degree in dental hygiene in 2002 and joined Henricksen Family Dental in 2017. She has a gentle touch and strives to make all patients comfortable during their appointments.
When she's not in the office, Kelli spends her time with her husband, son, and daughter.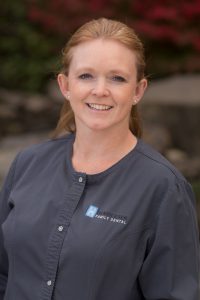 Kim
Dental Assistant
I enjoy connecting with our patients and developing relationships that last for years. Like the rest of our team, I appreciate our patients and do my best provide each with a positive experience!
Kim attended dental assisting school and started her career in this practice in 1992. Spending her time in the clinic, she assists Dr. Henricksen with procedures and provides patient care and education. She also sterilizes tools and equipment and handles inventory, including ordering supplies.
During her free hours, Kim enjoys time with her husband, Lee, and three sons. She loves hiking, fishing, hunting, and outdoors activities. She is also a volunteer EMT/firefighter for the Onalaska Fire Department.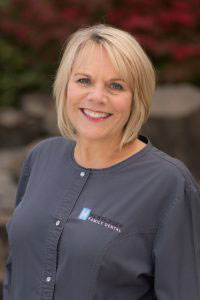 Michelle
Hygienist
I like the people I care for and enjoy helping each develop and keep a healthy smile. I also like this great group of people I work with. We're a team that pulls together to the benefit of our patients!
Michelle holds an Associate's degree in Science/Dental Hygiene and has worked in the field since 1983. She joined our practice in 1999, offering dental hygiene care, including cleanings and patient education, teaching each person how to maintain their oral health.
As a mother of three grown sons and a wife, much of Michelle's personal time involves family activities. She also enjoys playing tennis, gardening, and making the most out of life.